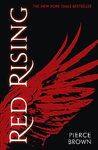 Red Rising by Pierce Brown
My rating: 4 of 5 stars
A quite enjoyable affair. This book reads like a typical dystopian, young adult novel…and it is, but that doesn't make it any less fun. I finished this rather quickly and part was due to the ease it was to read it, the other being I wanted to know what happened next. The whole premise is all different types of people are put into castes. Reds are the lowest of the low, the janitors, the miners…the slaves. There are those in the middles like Pinks are brothel types and I think it was Green was the Artists. Above them all are the Golds. They are rich and have rich blood. The highest of the Golds are the Peerless, which requires attending and surviving an unknown academy.
This story follows that of Darrow, a young red that is very agile. Stuff happens and he gets launched into this academy as one of the Golds. Obviously he must keep it secret. Obviously he is at ends with his overall goal versus his current needs. This book takes Darrow up and through the academy. The main action is a Roman Gods inspired faction versus faction war. Deaths are sort of allowed, hunger, thirst are ever present and who rises to be the leader in this situation. Obviously Darrow does, but INTRIGUE, backstabbing, lying, are all there. It makes for a fun ride.
I will read the next one, I anticipate it will be a bit more of the same. I wonder if it will bigger (space battles) or smaller (politics scheming) or both? Either way, this book was a very good read and I had a great time.